Sacramento Laundry is the premier laundry provider for 35 hotels in Northern California.
Throughout the past decade, we have steadily grown from just twenty employees to over 350 hard-working and dedicated team members. We are a family-owned and operated small business that first started out as a local coin-operated laundry in downtown Sacramento.
In the past five years, Sacramento Laundry has successfully expanded into new regions of the Bay Area. We provide a reliable, daily delivery service to over thirty-five hotels throughout Sacramento, San Francisco, Lake Tahoe, Burlingame, Santa Clara, and San Jose.
Our customers range from boutique hotels in San Francisco to military base hotels luxury ski resort hotels in Lake Tahoe, and 1,000+ room convention center hotels. Regardless of the clients that we work with, Sacramento Laundry provides all customers with best-in-class service and support at a great price
What We Offer
• We specialize in the washing of customer-owned goods (COG) for hotels.
• The most competitive laundry pricing in Northern California.
• Personalized and responsive service from a family-owned business
• Consistent delivery service 365 days a year. Not a single late delivery in 2019 or 2020!
• The wash capacity to handle hotel laundry for clients both big and small.
• The latest in cutting-edge wash technology to ensure consistent quality and results
• We Responsiveness, Fast and Reliable
• Today, we work with clients ranging between 180 to 1,500+ hotel rooms.
• Sacramento Laundry is both an Ecofriendly and environmentally sustainable business.
•Our Milnor tunnel washers require 75% less water and fewer chemicals to operate than traditional commercial washing machines.
• Partnership with Ryder trucks and a fleet of 15 leased trucks.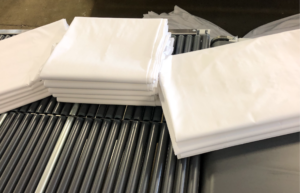 Customer Testimonials
"The team at Sacramento Laundry knows what Customer Service is! From their competitive pricing to their willingness to go above and beyond for clients in busy season or times of crisis,   I would not want any other company handling our laundry services.  Their consistency in delivery and care for the product allows us to successfully run our Hotel Business. With their state-of-the-art technology and amazing service staff, Keith and Julia have built a family-owned and operated business that can provide top-notch service in and around the greater bay area.  We have a great relationship with Sacramento Laundry, and we look forward to that for years to come."
 – Nikki Carlson | General Manager at Kimpton Hotels & Restaurants
A client of 6 years
"Sacramento Laundry is a great local ally of Standard Textile. We especially enjoy the fact that our relationship is a real partnership with the common goal of making our properties happy with the service/product they receive. Honesty and great communication have been keys to delicate situations where properties appreciated our professionalism and responsiveness. We are always glad to test products on both ends and support each other family-owned businesses."
 – Pierre Bee, Textile Consultant,  Standard Textile (Linen Supplier)
 A business partner of 4 years